eonline| Picking up where things left off last week, Christian Estrada and Jordan Kimball got into a heated fight during Monday night's episode. In the midst of their brawl, the rest of the contestants watched in shock.
"Come here, bitch," Estrada taunted Kimball as the show's crew held back both men. "Cheers to you being a bitch," Jordan responded.

But Christian was ready for round two. He broke away from the crew, grabbed Jordan and threw him to the ground. Eventually, both reality TV personalities were separated and sent home. "We have a zero-tolerance policy," host Chris Harrison told the remaining contestants.

However, Nicole Lopez-Alvar was still shaken by the whole ordeal. "I'm freaking out," she told Onyeka Ehie. "I'm literally in shock. I'm shaking right now."

Fans of the ABC dating series might recall last week's episode when Christian was very territorial over Nicole, whom he had just met. He was also aggressive towards Clay Harbor, who has had his heart set on Nicole. It appeared Christian's behavior rubbed Jordan the wrong way, so he posted up.

Of the insane brawl between Estrada and Kimball, several Bachelor in Paradise stars exclusively spoke to E! News at the iHeartRadio's Real Street Festival about how they felt in that moment.

"I thought the fight was fake at first. I thought it was like staged—oh, this is kind of funny," Tayshia Adams said. "But it was so intense and so scary. Watching it unfold is mind blowing. Honestly, we were standing at the bar and then I hear screaming and I was taken completely by surprise. Somebody was falling down the stairs. The next person was running after the other. And then I see security."

Mike Johnson also shared his thoughts on the whole ordeal.

"I think that Jordan and Christian, their ego probably got the best of them," he told us. "And I was watching. I was standing beside the biggest guy there, Clay. And I was sitting back sipping on my tequila, and I had a good time watching. I didn't want to interrupt the two of them, they're fighting. I wanted to make sure that they got out what they needed to get out. And I know that the Bachelor producers would make sure that we [were] safe and good to go."

He continued, "That was the first time I had ever seen anything remotely close to that, but that s—t was wild to be quite honest."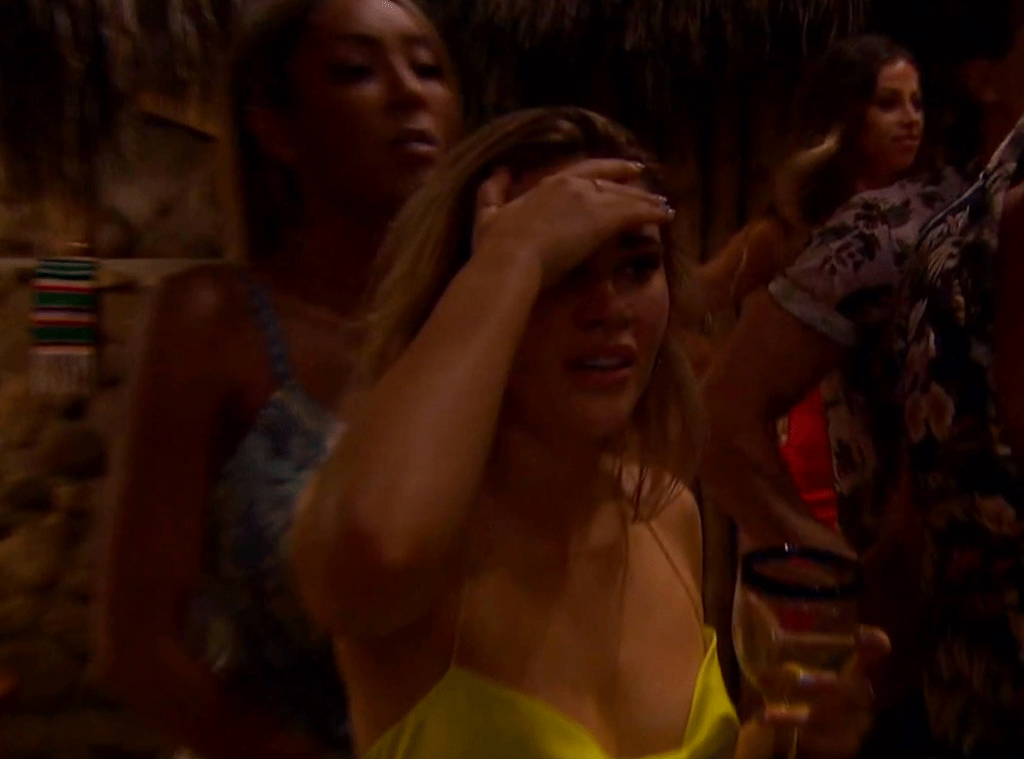 Wills Reid also weighed in and told E! News the fight was "surreal."

"It definitely seemed surreal… and it was a bit frightening. A lot of the girls on the beach were terrified and it kind of threw everyone for a loop and gave everyone an adrenaline rush. It was just wild to see."

All three contestants told us they felt the producers made the right call in sending both men home.

Additionally, other Bachelor Nation stars couldn't help but react to the crazy episode on Monday night.

Tia Booth wrote, "I totally think @jordan__kimball was just trying to be funny, but he messed with a feisty little firecracker!! #bachelorinparadise." Derek Peth responded, "The correct answer was…he poked the wrong bear this time."

Even Jordan commented on the brawl, saying, "I've been wrestling alligators since the age of 3."

However, Luke Stone called out Bachelor in Paradise's hypocritical stance on their "zero tolerance" policy. "Interesting policy on violence, bodyslamming not included I guess," he tweeted, which was in reference to Luke Parker allegedly body slamming him on Hannah Brown's season of The Bachelorette.

But leave it to Evan Bass to say what we were all thinking: "Ok this Jordan and Christian thing was bad but I'm being personally attacked by Deans shirt/stache combo tonight."

Bachelor in Paradise airs Mondays and Tuesdays at 8 p.m. on ABC.